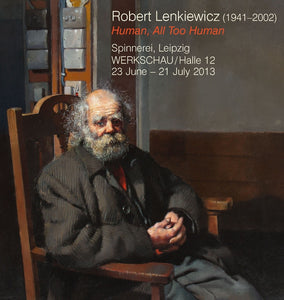 Robert Lenkiewicz (1941-2002): 'Human All Too Human'

Catalogue for exhibition at the Spinnerei, Leipzig, 2013.
If you missed the international exhibition in Leipzig (21 June-23 July 2013) or would like to learn more about the ideas behind the exhibition 'Human, All Too Human' touring to Nuremberg in September, this 64-page catalogue is the ideal starting point. It contains 34 full-page illustrations of Lenkiewicz's work, some never before seen in print. There's an introductory essay by exhibition curator Francis Mallett; an essay by writer and art critic Mark Gisbourne, which places Lenkiewicz's work in an art historical context; and an essay which draws out the links between Lenkiewicz's ideas and those of German philosopher Friedrich Nietzsche. (Size: 210 x 197 mm. Paperback. ISBN 978-0-9552667-8-2). A German language edition is also available. Postage to EU: £4.95. (Call to order).