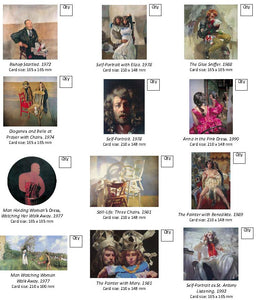 Set of 11 Lenkiewicz Foundation greetings cards.
This official set of 11 Gift Cards illustrates some of the most iconic images painted by Robert Lenkiewicz (1941-2002).
Each card includes a matching envelope, shrink wrapped for protection.
The cards are published by The Lenkiewicz Foundation, the UK charity (Registered Charity No: 1063357)
which aims to promote public awareness of the artist's work, life and ideas. Normally retailing at £25.00.
The standard card sizes are as follows:
Square format - 165 x 165 mm
Portrait format - 210 x 148 mm
Landscape format - 148 x 210 mm
Diogenes and Belle at Prayer with Chairs. 1974
Man Holding Woman's Dress, Watching Her Walk Away. 1977
Man Watching Woman Walk Away. 1977
Self-Portrait with Eliza. 1978
Self-Portrait. 1978

Still-Life (Three Chairs). 1981
The Painter with Mary in Newspaper Magi's Fools Caps. 1981 (Also known as 'Paper Crowns').
Syd Sniffin Glue. 1988
The Painter with Anna. 1993
The Painter with Benedikte. 1989
Self-Portrait as St. Antony Listening. 1993
Please note that this price applies only to the complete set of 12 cards - individual cards are £2.25 each. Call to order.
From time to time individual cards go out of stock: in this case we will make a substitution. If more than one item is affected we will contact you before dispatch.