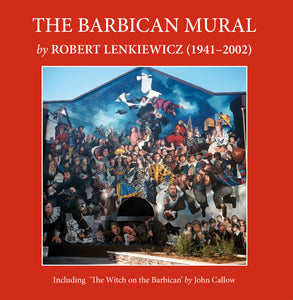 Marking the 50th anniversary of the painting of the Barbican Mural by Plymouth artist Robert Lenkiewicz, this publication reproduces the original guide 'Notes on the Barbican Mural', first printed in 1972. In his own words, Lenkiewicz explains his 3,000-square-foot visual celebration of the symbolism, poetry, philosophy, alchemy, ceremonial magic, and the influence of Jewish thought on culture in the first Elizabethan Age between 1580 and 1620.

A new essay by cultural historian John Callow – 'The Witch on the Barbican' – explains the mural's origins in Plymouth's famous historical connection to the sailing of the Mayflower to the New World in 1620. He identifies the artist's friends and associates who modelled for the historical figures, and draws out the hidden meanings in the mural's complex symbolism.

Size: 210 x 210mm, 56 pages, 27 illustrations.
A giclee on canvas print of the mural is available in this store, priced at £325 framed and delivered.